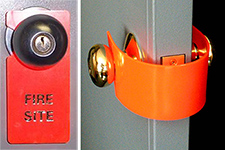 Sure Search Door Markers are an invaluable aid during evacuation of hospitals, nursing homes and high rise buildings. These bright, visible markers are waterproof and re-usable. They help ensure that every room is searched during an evacuation, and that no time is wasted searching rooms more than once. Building staff and rescue crews can carry out evacuations faster and more effectively.
Our simple door hangers slip easily onto a door knob or door handle. Choose from the standard round cut-out for traditional knobs, or the rectangular cut-out adapted to door hardware such as those found in hotels.
Our unique "double door marker" hooks on to the knobs on both sides of a door. It marks the room as searched, and also prevents the door from latching during the search.
All door markers are available with your selection of standard text imprints. Standard options include EVACUATED, FIRE SITE, ROOM CLEAR, KEEP DOOR CLOSED, THIS ROOM SEARCHED and ROOM IS EMPTY. Custom stamping with the text of your choice is available for 12-pack and 25-pack orders.
Door Marker
The Door Marker slips easily onto a single door knob or handle. Also available with a square cut to fit rectangular-style door knobs.
Double Door Marker
The Double Door Marker snaps over the knobs on both sides of a door, wrapping around the throw latch to prevent the door from latching during a search.