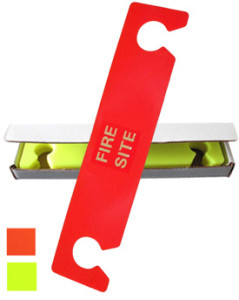 Item #: DDM-12PK-xxS
Description: Our Double Door Marker, stamped, in an economical 12 pack.
The Double Door Marker snaps over the knobs on both sides of a door during evacuation, preventing the door from latching during a search. Available in orange or yellow.
Choose from several standard evacuation-related expressions stamped in gold-foil lettering, or add your own custom text for a one-time fee of $95.
NOTE: If you choose the Custom Text option, there is a one-time $95 fee. The first time you order using this feature, check the "First custom pack (+ $95)" option and leave the Quantity at 1. If you are ordering multiples, go back and Add to Cart again and simply select the "Additional custom packs, same text" option and choose your additional quantities. If you order at a later date with the same customized text, select "Reorder previously-ordered text" and add the custom text you used for your previous order.
Made in USA.