Our fire hydrant markers are made in the USA using high-grade 60″ long, 3/8″ diameter fiberglass rod  with built-in UV protection. Our unique polymer brackets and spring caps are molded from strong, corrosion-resistant polymer. The spring caps eliminate the use of fillers and adhesives required by other manufacturers.
We also use heavy duty stainless steel springs and the best reflective tape on the market. The fire hydrant marker rod is highly visible and ensures that emergency crews can quickly locate fire hydrants at night or after a snow storm.
We offer both Top Mount and Side Mount fire hydrant markers. Our unique side mount bracket is rust-proof, vandal-resistant and won't rotate, so the rod stays upright.  The bracket won't interfere with removal of the housing.
About our fire hydrant markers

CY Plastics was one of the original developers of new, high-visibility fire hydrant markers being used around the country. These five foot long fiberglass rods with reflective bands help fire fighters locate hydrants buried under snow in winter. They help fire crews quickly spot hydrants in the dark, in any weather, at any time of year.
Traditional fire hydrant markers were simply painted wooden stakes attached to the hydrant so they could be located in deep snow. These wooden markers had no reflective qualities and could be difficult to spot after dark. They had to be removed at the end of the snow season, stored and re-installed the following year.
Encouraged by a third-generation fire fighter, CY Plastics (CY Safety Products) developed a better solution.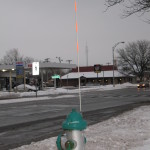 CY Safety Products fire hydrant markers are slim, lightweight and highly visible.
The 5′ rods are made of UV-resistant fiberglass with high-vis reflective tape.
The sturdy brackets are unique to CY Plastics, injection-molded molded from sturdy, corrosion-resistant polymer at our facility near Rochester, NY.
The heavy duty stainless steel springs allow the hydrant markers to quickly and reliably spring back into their upright position if they are pushed aside by a fire fighter, hit by a snow plow or other vehicle, or weighed down by heavy, driving snowfall.
CY Safety Products fire hydrant markers are designed to withstand the elements and can remain attached to the hydrant year-round. The high-visibility fire hydrant markers help emergency crews to locate hydrants quickly, when saving a minute or two can mean the difference between saving a life or not.
Shop now for top-mount hydrant markers or side-mount hydrant markers.