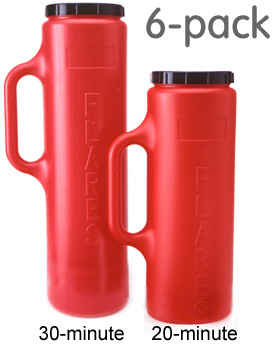 Item #: FC-xx
Description: Our 12-Flare Containers in an economical 6 pack.
Our Flare Container holds up to 12 flares and is molded from durable HDPE to resist wear and tear from tough use. Keep your flares dry, damage-free and ready for use. The large handle and easy-grip screw cap make the container easy to use while wearing utility gloves.  The container allows you to carry and use 12 flares at a time without them getting wet or damaged.  The carton can also be used to store and disperse rock-salt and oil dry.
The 12-Flare Container has 5″ diameter and is available in two heights: 14″ (for 20-minute flares) or 18″ (for 30-minute flares).
Made in USA.